Product feature updates are continuing to pick up speed for WorkHound customers, prospects, and internal users to provide faster and more effective service. The primary focus of WorkHound is to raise the voice of the dispersed workforce. Our goal is to collect and deliver worker feedback in a way that helps companies quickly take action. Updates in Q3 further accomplish that vision.
Q3 product feature updates expanded on big changes in Q1 & Q2 of 2020, like the new activity page, the addition of the new themes "praise," the ability for users to leave status updates for one another, as well as the new One-Time Notification feature that allows customers to quickly answer questions and concerns within feedback. 
Q3 Featured Solutions
Full Text Search
July delivered a product feature requested by many customers and prospects and so, enhancing our service in this way has helped customer functionality. Full Text Search enables a keyword search within the text of each comment. The search feature is flexible and intelligent to help users further hone in on subsets of comments. It's even possible to search within specific themes and the feature respects filters selected by users.
The ability to search full text within comments can help companies collect specific information related to major decision-making. 
Activity Page Filter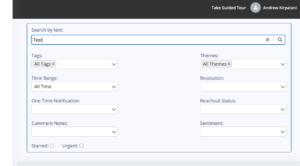 On the new-to-2020 activity page, users can now filter comments by 'Sentiment.' 
When workers leave feedback, they are prompted to rate their experience on a scale from 1 to 10. With a combination of that score as well as the content of the message, comments are determined either "positive," "negative," or "neutral." 
Now users can filter comments on their dashboard within each sentiment. This can help users understand the areas of the company that require the most improvement based on worker feedback, as well as areas where your company is going above and beyond.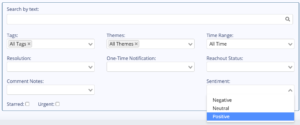 Performance Enhancements
As WorkHound serves more and more companies with thousands of workers, the WorkHound Product Team is constantly working behind the scenes on advancements. These changes maintain speed and efficiency. Their efforts are also enhancing internal resources for the betterment of the WorkHound Customer Success team service provided to our growing list of users. 
A Distributed Workforce Raising the Voice of your Distributed Workers
Q3 has continued to develop our understanding of communication needs for dispersed workers as WorkHound remains a fully remote business. While remote work has always been a significant part of the WorkHound culture, we've continued to invest in tools to help us collaborate more efficiently within our organization, and for current and future customers.
Because almost every workforce is now a distributed workforce, WorkHound is relevant across all parts of most organizations. We have witnessed a shift in how WorkHound is used. Once only used for frontline workers, current WorkHound customers are now gathering feedback from their now-remote office staff. Together, we are gaining powerful insight into their needs.
Proactively gathering feedback from your newly distributed workforce is the key to gaining critical information for helping your team adapt to new conditions. Give us a call when you're ready, we're here to help.
best practices
,
driver retention
,
product update
,
remote workers
,
simplified communication