In 2018, WorkHound tracked feedback from tens of thousands of professional drivers throughout the country. These drivers work at companies as small as 60 trucks all the way up to several thousand while hauling tanker, refrigerated, dry van, flatbed, and expedited freight. This feedback is the key to how organizations are streamlining driver retention efforts.
While driver turnover continues to remain high, with an average of 95 percent, the driver shortage continues to grow. According to the American Trucking Association, the shortage is currently at a deficit greater than 50,000.
WorkHound's trend analysis came from 77 percent company drivers and 23 percent from owner-operators. The average age of a driver is 55 years old. Smartphone use from drivers is continually increasing and right now, the latest reports show 87 percent of drivers use smartphones daily.
We also know that with a driver shortage and countless opportunities to job hop, turnover happens fast. That's why now more than ever it's important to get to the bottom of drivers' needs.
"The companies that are winning with drivers are taking care of their well-being," said Max Farrell, WorkHound CEO. "We know there is a value in the perspective of drivers because this is their life. The smartest companies out there realize that frontline feedback is a goldmine."
While our reporting focuses on the top five themes of 2018 (representing 82 percent of comments), the information in this recap is just the tip of the iceberg for all WorkHound feedback.
Here are some of the top takeaways from the 2018 WorkHound Trends Analysis:
Equipment
Drivers want equipment to be up-to-date and well-maintained. They also appreciate quality facilities like yards and truck washes. These folks take pride in their work and want their equipment to reflect it.
When it comes to negative feedback, It's quite impactful when fellow drivers don't share that pride. Nothing frustrates a quality driver faster than those who disrespect the equipment. Drivers want to work, but are limited by industry and equipment challenges.
Drivers don't feel consulted in regards to company equipment decisions. Equipment decisions that appear to be made at the expense of driver comfort, safety, privacy and/or well being are perceived especially poorly. Not being able to idle in the heat, no APU for CPAP, inward cameras, etc.
Logistics
Drivers are frustrated by the inefficient use of their time because they're a motivated workforce and want to work! Keeping drivers well-planned and moving not only makes them happy, but it's also better for business.
Logistics overlaps with communication in many ways. Obtaining, creating, demanding, and communicating quality information helps drivers be more efficient in their jobs. Ultimately, quality logistics and planning are a win-win for the company and the driver. You both maximize earnings!
Don't tolerate mediocrity. At times you may have the choice of firing a customer or losing many drivers, consider this choice carefully.
People
Drivers will gladly recognize and praise the office staff when the system is working well, but calls for increased empathy are a consistent response.
Some drivers fresh out of orientation challenged office staff to ride in the Greyhounds, stay in the hotels, and eat the food drivers ate to see if they would make the same business decisions again. Additionally, with the isolation of the road, there is an increasing desire for camaraderie among drivers.
Pay
Pay comments aren't just about the mention of making more money. Driver feedback shows that the nuances of pay are where the issues exist.
Drivers find pay confusing or incorrect or frustrating. The volatility of pay is polarizing for drivers. The mindset of "it's not worth it" quickly emerges. There are several mentions of driving for Uber or working at McDonald's when drivers have a $400 paycheck. Trucking's competition is not only other carriers. It is also other opportunities outside the industry. Overall there weren't many positive comments around pay.
Communication
Feedback about communication doubled from 2017 to 2018. Drivers shared that incomplete or incorrect information, contentious relationships with dispatchers, and disrespectful rapport were some of the most common friction points related to communication. Adversely, drivers aren't hesitant to share when communications go well.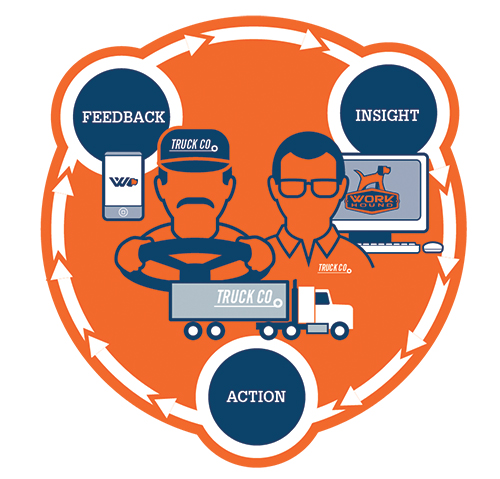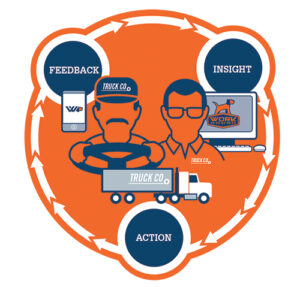 In addition to new insights from worker feedback in 2018, WorkHound also evolved their service by developing a tool to measure the ROI of specific actions toward retention. This metric helps companies better understand how one-on-one conversations to resolve concerns can build trust among workers resulting in increased productivity and reduced hiring burden.
"Responding to worker feedback is crucial to continue to gain further operational intelligence, and have the opportunity to continue to improve your company and your bottom line," said Andrew Kirpalani, WorkHound CTO. "To summarize, show your drivers that you're listening, working to get better and that their voice matters.
Anonymous worker feedback can uncover unknown pain points and give you the tools to resolve turnover issues. Contact WorkHound to improve how your company is asking for feedback in 2019.